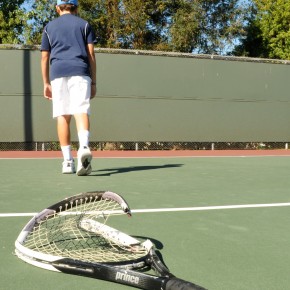 Guess who was an angry emotional train wreck as a junior competitor? If you said Andre Agassi, Rafael Nadal, Roger Federer, then you're right! Moral excellence is a maturing process. Everyone can compete in a relaxed, happy state, but not everyone wants to.
Negative behavior is often motor-programmed into a player's routine. It is a comfortable, dirty, old habit. The development of character lies is the ability to first learn to be uncomfortable competing without the negative act. It's like a stand-up comedian without his props to hide behind. The old props (anger outbursts) are comfortable.
Cure:
The solution lies in the understanding that you have a character choice. Somewhere in their late teens, Federer and Nadal were taught a wiser code of conduct and chose to apply it. Displaying anger outburst on court wastes valuable energy toward more un-productive behavior.
Anger is actually a show of fear or lack of confidence- often shown when skills are is question. Showing out of control anger outbursts is a immature behavior that is unacceptable in all arenas of life- disrespecting yourself and others. If you work as hard as you can developing your game, on-court and off-court, your anger will be replaced with confidence. It is not to say you will win every match, but you will understand that showing negative out-of-control energy is unproductive and damaging behavior. Learning to accept and improve upon weaknesses will develop moral excellence- a valuable life skill.
To progress comfortably through the junior tennis wars, both game skills and life skills are essential. Begin early building your own positive navigational tools on and off the court. Start to build relationships with players, families, stringers and tournament directors.
Ask Yourself?
In my last tournament, did I show respect to myself, my opponent, fans and the tournament staff? In my next tournament, can I make a point to say Hi to the tournament staff? When was the last time you thanked your parents, coaches or even stringer? Have I ever thought about why I was showing anger outbursts?