The following is an on-line interview
Tennis Coach Alex Slezak had with Frank Giampaolo in October 2013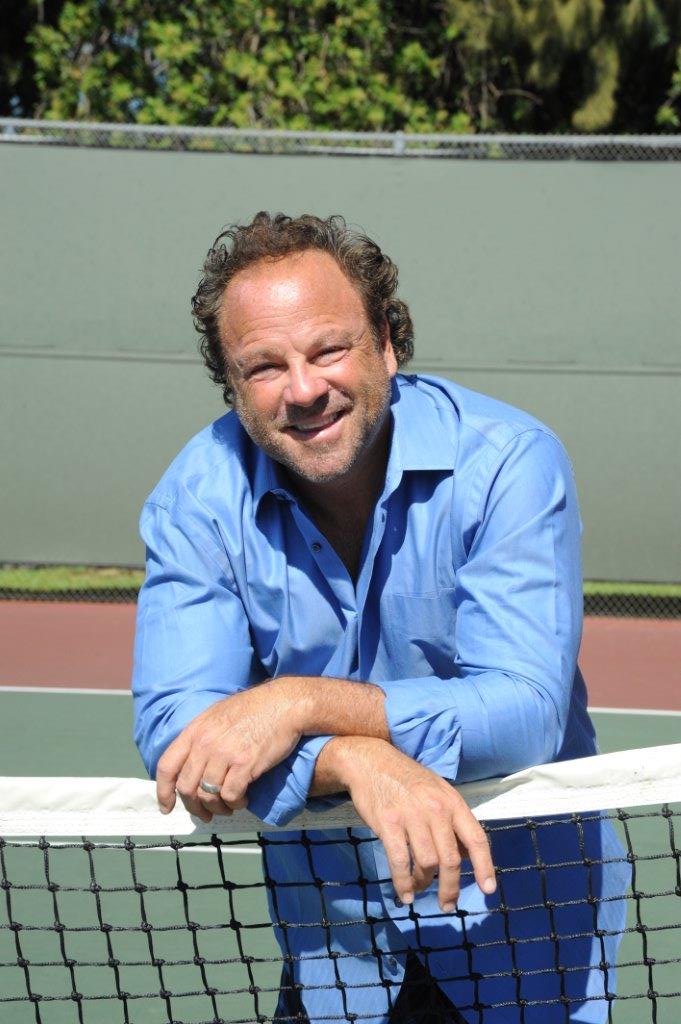 How did your career begin?
While attending Ohio State University, my friends were talking about this great new opportunity working for the Greyhound Bus Factory after graduation. The starting pay was a whopping $9/hour versus the $4 minimum wage- this was in 1985. I wanted no part of that! Around that time my father was changing careers and moving to Southern California. I was packed and sitting in the car 2 days before we left!
On my first Day in California, I drove out to The Vic Braden Tennis College. I mentioned that I wanted to learn how to seriously teach this game and asked if I could sit and observe Vic's classroom sessions and on-court lessons. I went back every day for two weeks. After that, I was offered a position. My years at the tennis college and the National Tennis Research Center in Coto De Caza taught me everything I didn't even know… I needed to know.
How have you grown as a coach?
Back then, tennis teaching was primarily focused on fundamental stroke development and repetition. The growth came by developing the other components that are commonly found in champions. I went deeper. I traded in the financially rewarding academy approach for my current spiritually rewarding customization approach.
What's the greatest factor in your success?
Understanding each individual's preferred intelligence. We are all born with a genetic predisposition to excel at a certain style of play. Our brain type (or personality profile) and body type play the most significant role in maximizing potential at the quickest rate. Also, shifting focus from fundamental stroke production to the mental and emotional components of the game has helped my players win 77 National titles in the past 10 years.
Why did you write the Tennis Parent's Bible?
I was a successful high performance coach and then became a tennis parent. My step-daughter, Sarah Fansler, went from a 10-year-old beginner to playing the US Open by the age of 15. She won 10 National titles as a junior. Along that journey, I realized that being a tennis parent is 1000 times more difficult than being a coach! There were great USPTA and PTR coach workshops and great junior developmental programs, but zero tennis parental educational avenues. So…. I took it as a challenge to write my first book.
How big is the factor of the parent in developing a champion?
Well, without a well-informed tennis parent, and/or "hired gun" the most gifted junior on the planet has no chance. Uneducated tennis parents waste thousands of dollars, hours, and tears. Interestingly though, most tennis parents of ranked juniors are successful, type A personalities. They don't feel they need anyone's help because in the past, they played on their high school or college squad. These parents sadly sabotage any real chance of their child's success without ever realizing it.  I was coaching at the Australian Open, talking with an incredibly successful tour coach about tennis parents and I asked him, "Where they would look for the next big talent?" …With a half-smile he said, "Well, first I'd start at an orphanage…"
What's the best advice to give a parent?
Leave the ego at home and make it a point to get educated. A tennis parent who views the role of a tennis parent as a part-time hobby usually has a hobbyist as a junior player. The National and ITF champs I know have a primary tennis parent. Raising athletic royalty is a full-time job. These parents are the teams management system. They work as the human resources department hiring and firing coaches, trainers and hitters. They are the bank, the accountants, the nutritionists, the designated driver, the airline and hotel booking agent, they register their player for events, wash clothes, get rackets strung, purchase equipment, pay coaches and tournament fees. They organize the schedules and find practice partners. They are even the psychologist, the match charter, and the match videographer. Their laundry list of jobs makes them the most important figure in a junior tennis champion's life.
What's the best advice for a player dealing with their parents?
Number one is to read the above tennis parent job description list! Most juniors haven't taken the time to actually look into everything their parents are doing for them. I often remind juniors that their folks can go to Hawaii and stay at the Ritz for a week every two months for the same amount of money they're spending on their child's tennis dream. Realize that if you're going to have an attitude towards your parents that attitude should be gratitude.
How has the game evolved over your career?
The physical, mental and emotional evolution of the athlete is number one. I was part of a tennis magazine shoot regarding how equipment is changing the game. We shot several top ATP pros serving with wood, aluminum and modern graphite frames. The result was that the modern pros can hit 130 mph with graphite, aluminum or wood. Modern string technology surely makes a difference in spin and control, but players around the globe are training harder. They are bigger, stronger, and faster. They develop the mental and emotional components now more than ever. So from my point of view it's the player more so than the equipment.
Where do you see the future of the game going?
Great question!  I know what I'd like to see!
On the Woman's professional side I'd like to see the development and implementation of secondary strokes. In my opinion, it's such a one dimensional slugfest.
On the Men's professional side, I'd like to see taller players attack deep down the middle. It would take away the speedsters passing shot angles. The Isners, and Querreys of the game have massive wing spans and it sure would be a tough assignment to pass or lob them.
From the high performance junior development side, I'd like to see juniors occasionally trade in the typical lesson sequence (rallying back & forth for 45 minutes, volleying for 10 minutes, followed by 5 minutes of serves) with a different plan. I'd like to see future training sessions look like this: serve and return for 30 minutes, then work on their attacking, transition game for 20 minutes, followed by 10 minutes of rallying.
What are your thoughts on the transition balls and 10 & under tennis?
My overall feeling is that they are both terrific for any age beginners. I have my staff use them in the 55 & over beginner classes as well. The issue is finding the exceptions and progress them towards the real game ASAP. Remember, not all beginners enter the game with the same athletic history. For example, I've had two 28-year-old beginners in the same group; one is a top accountant who has never played a sport in her life, the other gal is a three-time Olympic gold medalist. Yes, they both signed up for my beginner class, but have opposing athletic histories. Also, I have two 7-year-old players; one just wants to look cool in his Nike Rafa outfit (He doesn't even want to hit!), the other has a very different growth development schedule (He's sure he can beat the 16-year-olds in the advanced program and is mad that he's not in that group!).
How would you define the mental aspects of the game?
The mental component is simply the X's & O's of strategy and tactics. It involves dissecting opponents and executing the shot the moment demands. The mental tennis is understanding the different patterns of shot sequences and knowing when to apply them against different styles of opponents.
How would you define the emotional aspects of the game?
The emotional components deal with a player's ability to focus on their performance goals for the duration of a whole game, a whole set, a whole match or even for the entire tournament. It's handling stress. It's composure under adversity. It's one's ability to close out leads and handle gamesmanship. It's dealing with the subtle differences between choking and panicking on-court.
How do you plans on impacting the game in the future?
My plan is to continue to take the Tennis Parents Workshops, the High Performance Mental Emotional Workshops and the Coaches Information Exchanges around the world. I'll be heading back to Israel, New Zealand, and Australia next year as well many new countries. Of course, I'll be here booking "crash courses" in the US. I will be finishing up the seventh workbook is the Mental Emotional series of high performance junior eBooks. And I'll continue to offer free tennis parent newsletters and blogs.
Find out more about Frank Giampaolo…
www.TennisParentSolutions.com
FGSA@EarthLink.net
@ Frank_Giampaolo
www.Facebook.com/frank.giampaolo.9