To Purchase The Second Edition of THE TENNIS PARENT'S BIBLE  CLICK HERE
Frank Giampaolo's innovative approach has earned him numerous honors, including being named the 2001 USPTA Southern California Tennis Director of the Year and being voted a top teaching professional in consecutive years by Southern California Tennis & Golf magazine.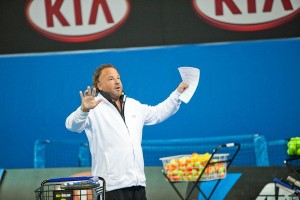 Frank is a veteran coaching professional, popular convention speaker, a sports educator, a bestselling author, instructional writer for ITF (International Tennis Federation) Coaching & Sports Science Review, UK Tennis magazine, the USPTA, Tennis Magazine and Tennis View Magazine. He is an author of Championship Tennis (Human Kinetics Publishing), The Tennis Parent's Bible, Raising Athletic Royalty, The Mental Emotional Workbook Series (How to Attract a College Scholarship, International Player Evaluation, Match Chart Collection, Match Day Preparation and Blunders and Cures). His television appearances include The NBC Today Show, OCN-World Team Tennis, Fox Sports, Tennis Canada and Tennis Australia.
Frank founded The Tennis Parents Workshops in 1998, conducting workshops across the United States, Mexico, Israel, New Zealand, Australia, Canada and Spain. He then instituted The Mental/Emotional Tennis Workshops in the spring of 2002. Frank's commitment to coaching excellence helped develop 77 National Champions, hundreds of NCAA athletes, numerous NCAA All-Americans and several professional athletes. His innovative approach has made him a worldwide leader in athletic-parental education. Frank is currently the Vice Chair of the USTA/SCTA Coaches Commission.
Giampaolo's acclaimed book, The Tennis Parent's Bible, is being used by ITF leaders, academy directors, parents, and coaches worldwide.  Frank's second book, Championship Tennis (An all-inclusive guide to maximizing players' potential.) was released in April 2013 with worldwide publishers Human Kinetics in both print and eBook formats. Frank's unique and inspiring coaching techniques led to his third book,Raising Athletic Royalty- an all sports book. Frank's extensive and innovative coaching knowledge led to other non-tennis athletes seeking his expertise.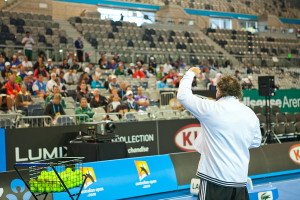 Frank Giampaolo Contact Information: fgsa@earthlink.net ; fgsa2728@gmail.com